In 2011, Eastern Maine Electric Cooperative (EMEC) entered into a contract with  First Wind Holdings, LLC and four of its former subsidiaries (Evergreen Gen Lead, LLC; Evergreen Wind Power III, LLC; Stetson Holdings, LLC; and Stetson Wind, II LLC), for the sale of a section of an electric transmission line, the Stetson Line, to the coop.  (First Wind Holdings, LLC is now owned by SunEdison.)  The subsidiaries are three companies that own wind farms, Stetson I (Stetson Holdings, LLC); Stetson II (Stetson Wind II, LLC); Rollins (Evergreen Wind Power III, LLC); and the company that owns the Stetson Line (Evergreen Gen Lead, LLC).  (These four entities are now owned by TerraForm Power, Inc.)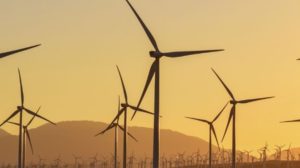 EMEC was to buy 12.54 miles of a transmission line that connects the wind farms to the electric grid. The wind farms agreed to take transmission service over the line and pay the coop for the service.  The contract included the detailed agreed-to business terms and required good faith negotiations to deliver and execute final documents with the agreed-to business terms. However, the deal fell apart over questions about who would be responsible for repairs to the line. First Wind Holdings asked EMEC to buy insurance to avoid liability for damage, while the coop said First Wind had agreed to pay for damages.
EMEC filed the lawsuit in October 2014 in Maine Superior Court. The defendants removed the case to federal court, but that court ultimately denied a motion to dismiss filed by the defendants and remanded the case back to state court.  The coop then transferred the case to Maine Business and Consumer Court, a specialized court charged with handling business cases.  In 2016, the defendants filed a Motion for Summary Judgment, again seeking to dismiss the case. After lengthy argument, Justice Michaela Murphy denied the defendants' motion, and ordered that the case go to trial before a jury. The jury trial took place during the week of 14-18 November 2016 in Bangor, Maine.
On Friday, 18 November, after a four day trial, the jury found that the five wind power companies breached their contractual obligation to negotiate in good faith, and returned a $13.6 million verdict in favor of EMEC. The unanimous verdict against the defendants was reached after only two hours of deliberations.
The verdict is one of the largest jury verdicts ever awarded in Maine. Sun Edison and TerraForm Power have not announced whether they plan to appeal the verdict.
Eastern Maine Electric Cooperative is a consumer-owned electric utility headquartered in Calais, serving approximately 12,500 consumers in portions of Washington, Penobscot, and Aroostook counties.
EMEC Wins Verdict (Emec.com)
Jury awards $13.6 million to electric cooperative in Maine (SFGate.com, Friday, 18 November 2016)