Iowa coop Raccoon Valley Electric has plans to go carbon-free, and its first step is to purchase enough Renewable Energy Credits (RECs) to fully offset its use of carbon-based fuels.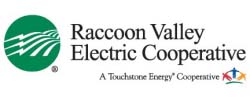 Renewable Energy Credits(RECs), also known as Green tags, Renewable Energy Certificates, Renewable Electricity Certificates or Tradable Renewable Certificates (TRCs), are tradable, intangible certificates that represent a certain amount of electricity was generated from an eligible renewable energy resource (renewable electricity) and was fed into the shared system of power lines which transport energy. Many corporations purchase the credits as a way to support renewable energy when they are not yet in a position to purchase or generate the renewable energy itself.
In many states, electric cooperatives are exempt from renewable portfolio standards that mandate a defined level of renewable energy purchases. Nonetheless, more than 90% of the rural electric cooperatives in the United States provide electricity generated from renewable resources, according to National Rural Electric Cooperative Association.
Many of the coop's 2,700 members have expressed an interest in shrinking the plant's carbon footprint. Raccoon Valley, which currently obtains about 10 percent of its power from nuclear and hydropower, plans to purchase enough renewable credits to equal the other 90 percent of its power supply that comes from coal, gas and wind power. The plant sells the wind energy it generates, and is in development on five 150-kilowatt solar arrays that should go online by the end of 2018, generating a combined, estimated total of over 420,000 kilowatt-hours per year. The arrays will be considered a demonstration project and will provide real-time data of solar output for members and other interested parties. The cooperative will be offering members the opportunity to lease one or more solar panels and several funding options will be made available. RVEC will apply for a Rural Energy for America (REAP) grant and utilize financing through Clean Renewable Energy Bonds (CREB).
The coop plans to purchase credits from its three wholesale suppliers; purchasing the credits from its suppliers supports the cooperative of which it is a member and puts more renewables back in the generation mix while adding less than half a percent to Raccoon Valley's total cost of power.
Resources
Iowa electric co-op looks to buy RECs to go '100% carbon-free' (Utility Dive, Friday, 29 April 2016)
Iowa rural co-op goes 100% 'carbon-free' with renewable credits (Mid-Western Energy News, Thursday, 28 April 2016)
Raccoon Valley Electric Cooperative Constructing Community Solar Arrays (CBCOnline, Monday, 28 March 2016)