In June 2011, a devastating wildfire swept through New Mexico's Santa Fe National Forest, blackening over 156,000 acres, destroying 63 homes and causing an estimated $200 million worth of damage. The fire was sparked when an 80-foot-tall "visibly diseased and dying aspen tree," located on private property about 50 feet beyond the utility easement, fell onto the easement, landing on lines owned and maintained by Jemez Mountains Electric Coop. JMEC is the largest coop in New Mexico, serving 31,220 consumers living in Sandoval, McKinley, Río Arriba, San Juan and Santa Fe counties.
What became New Mexico's second largest wildfire in its history took almost six weeks to contain. Just months later, the U.S. Forest service billed the co-op $38 million for the costs of fighting the wildfire and rehabilitating damaged public lands.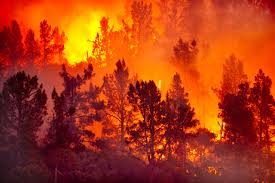 Property owners blamed the coop for not properly clearing away trees that were tall enough to fall on the line, but they also blamed the Forest Service for not giving the coop a wide enough easement to prevent such problems. In a 1995 agreement, the forest service only granted JMEC a 20-foot easement; residents claimed there were at that time already trees outside the easement that were tall enough to fall on the lines.
Between June 2011 and September 2013, more than 300 individual plaintiffs, including homeowners, businesses, insurance companies and two pueblos, filed negligence claims against JMEC, Tri-State Generation and Transmission (which provides power to its customers, including JMEC), an Española tree service, and the U.S. Forest Service. In October 2013, all the negligence claims involving damages resulting from the fire were consolidated into one civil suit.
Attorneys representing JMEC maintained that the co-op has a right-of-way tree trimming program, but argued that a tree located so far from the boundaries of its easement on private land would not have been seen by co-op personnel and thus could not have been identified as posing a threat to the line.
After a five-week civil trial and a six-hour deliberation, a Sandoval County jury found the coop 75 percent negligent for the fire. Tri-State was found 20 percent negligent, and the Forest Service was found responsible for the remainder.
Plaintiffs in the case had claimed that JMEC and Tri-State operated as a joint venture or enterprise, which is why Tri-State was included in the original complaint. Jurors specifically rejected that position, which could have had chilling effects on co-ops nationwide. The National Rural Electric Cooperative Association (NRECA) and other national cooperative organizations had been following the case closely, particularly as it concerns the joint venture issue, and filed briefs outlining their concerns. The jury verdict supported the historic relationships between distribution co-ops and their generation and transmission providers, because jurors specifically recognized the cooperative business model between JMEC and Tri-State. The two businesses were noted as operating as independent businesses and named separately in the verdict.
It's too soon to know how much JMEC will have to pay; damages will be determined in a later proceeding that has yet to be scheduled. JMEC is deliberating whether or not to appeal the initial verdict. Whatever settlements are reached, it will affect the electric bills in the Jemez area, since anything that affects the cooperative's costs is ultimately paid for by the members. Additionally, this verdict could set a precedent affecting the way JMEC and other electric coops operate, requiring them to maintain wider easements.
Resources
Jemez Mountains Electric Coop Faces Bankruptcy While Coop Members Face Increased Bills (Jemez Daily Post, Friday, 6 November 2015)
Split Decision for Co-ops in Wildfire Case (ECT.coop, Tuesday, 3 November 2015)
Las Conchas fire lawsuit heads to a jury (KOB.com, Wednesday, 28 October 2015)
Forest Service sends electric co-op $38M bill (Santa Fe New Mexican, Thursday, 7 November 2013)
Electric co-op faces suits sparked by Los Conchas (Albuquerque Business Journal, Monday, 4 November 2013)
Lawsuits could be costly for New Mexico electric co-op (Washington Examiner, Sunday, 3 November 2013)
Jemez Electric Co-op under fire (Albuquerque Journal, Sunday, 28 July 2013)
Jemez Mountains fire grows to 4,451 acres (Santa Fe New Mexican, Tuesday, 4 June 2013)