An increasing number of individuals and businesses in the US are moving to reduce their environmental footprint. From concerns about climate change, to the public image boost that comes with being "green", many are eager to make the switch and take advantage of the numerous Federal Government conversion incentives and subsidies. These are available in the form of direct grants as well as tax credits, and take a variety of forms.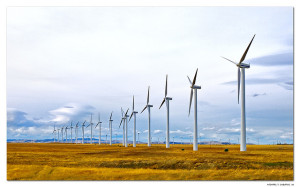 Types of Grants
There are many different programs outlying energy grants, each available to different organizations and industries – serving schools, residences, agricultural operations, local governments, and more. These can be used for means as diverse as investing in energy-efficient appliances to converting to green power generation. A full list is available at the Database of State Incentives for Renewables & Efficiency, but take a look at this overview of some of the major programs:
Residential
A Residential Renewable Energy Tax Credit provides homeowners with tax credit incentive (30 percent of project cost) to increase renewable energy production by installing such generators as solar cells, wind turbines, and geothermal pumps. Tax credits can generally be carried forward to the next tax year, if desired, and there is no cap on the incentive for most services.
High Energy Cost
The High Energy Cost Grant Program is available to just about any sector – from residential to commercial, industrial, nonprofit, and government. It's intended to support building of renewable energy programs, both on- and off-grid, and may be used to install solar heaters, hydroelectric systems, and wind turbines, among others. Incentives start at $20,000 and are capped at $3 million.
Biorefinery
The Repowering Assistance Biorefinery Program offers grants to biorefineries seeking to replace systems utilizing fossil fuels with ones capable of handling more renewable forms of biomass. The amount received will vary, but incentives are capped at 50 percent of total project costs. Note that 10% of the grant will be withheld until successful completion of the project, and thus cannot be used for construction means.
Rural Energy
The Rural Energy for America Program offers grants for a wide range of renewable energy technologies, including geothermal heat and electric, tidal energy, biomass, solar, and wind. Any number of institutions may be eligible for these incentives, from schools and government infrastructure to agricultural and commercial enterprises. The amount granted can be quite substantial, due to high overhaul expenses, but cannot exceed 25 percent of the project's cost.
Tribal
The Tribal Energy Program Grant is available only to Native American tribal governments, through a competitive application process. The mount granted can vary considerably and is dependent on the solicitation amount. This particular grant is appropriate for both power generation projects as well as simple investments like energy-efficient appliances.
For more information regarding green power incentives, contact Autry, Cole, Hanrahan, Hall & Cook, LLP today.