In prior posts, we have discussed Georgia's constitutional prohibition against local governments incurring "new debt" without voter approval in the context of public works.  A recent Georgia appellate case addressed the provision in the context of a development impact program. 
Developer was the owner of a development to be constructed in City.  As part of City's capital maintenance plan, a road was to be constructed by City as a "system improvement."  Some part of the road was on City's property.  To foster City's construction of the road, Developer and City entered into the following arrangement: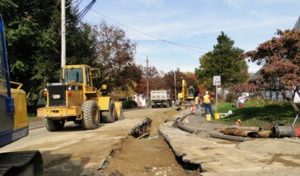 –          City hired third parties to construct the road.
–          When City would submit invoices to Developer, Developer would advance funds to City to pay such invoices. 
–          City would use funds from the Impact Fee Fund, up to $2,500,000 to pay back Developer. 
–          After City fully reimbursed Developer for the advanced funds, City would pay 33 percent of the funds remaining in the Impact Fee Fund. 
Under this arrangement, Developer advanced just over $1 million, and City had reimbursed Developer almost $500,000.  Developer sought the remaining amount due under the arrangement.
During litigation, City moved for summary judgment arguing that the arrangement resulted in an unconstitutional "new debt."  As explained in prior posts, a Georgia local government may not incur "new debt" without voter approval.  "New debt" is a liability that is not discharged by money currently in the treasury, or by taxes to be levied during the year the contract is made.  A contract that constitutes a "new debt" that has not received voter approval is void as a matter of law. 
Developer counter-argued that the arrangement was authorized by the Georgia Development Impact Fee Act.
The court agreed with City, ruling that regardless of whether the arrangement was authorized by statute, it clearly constituted an unconstitutional "new debt" and had not been approved by the voters.  As a result, the arrangement was void as a matter of law. 
But the story did not end here for Developer.  Based on procedural errors, the court sent Developer's negligent-misrepresentation claim back to the trial court.  We will see if this tort claim survives in the near future.