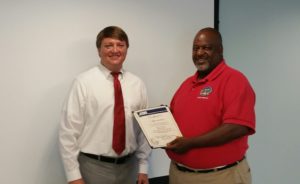 Throughout 2016, Attorney David Cook presented to multiple state and local government organizations concerning Georgia law of procurement.  Governmental entities have specific legal obligations when they procure goods and services.  Particularly for public works, they should be mindful of the rules governing competitive bidding, bonds and performance security, incentives and liquidated damages, immigration, conflicts of interest, and many other areas.
See blog posts dedicated to state and local governments.
These rules are important because, among other reasons, contracts entered in violation of them are void and unenforceable.  In certain circumstances, government employees can be personally liable for the losses.
In addition, one of the presentations covered important contract provisions in procurement contracts.  These provisions are designed to protect the state or local government and its employees from unexpected problems and unscrupulous vendors, suppliers, and contractors.  Some provisions are absolutely required by Georgia law.
David Cook offers seminars in procurement for state and local governments and their local counsel.  For information on cost and availability, contact David by clicking here.