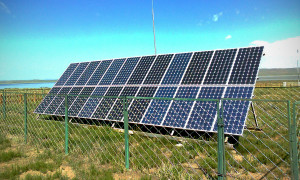 For the last two decades, federal agencies have set mandates to reduce energy intensity, lower greenhouse gases and increase use of alternative energy sources. The Energy Independence and Security Act of 2007 (EISA) requires federal agencies to reduce energy intensity by 3 percent per year, or 30 percent by FY 2015 (compared to an FY 2003 baseline). The American Renewable Energy and Efficiency Act, passed by Congress in 2013, requires 25 percent of energy consumed by federal installations to be produced by renewable means by 2025. In addition, the 2015 U.S. budget specifically supports the advancement of the President's "all-of the-above" strategy of investing in clean-energy R&D, promoting energy efficiency, and encouraging responsible domestic energy production.
The federal government accounts for approximately 56 terawatt-hours (TWH) of annual electricity usage, with over half that consumed by DoD, according to the U.S. Department of Energy Annual Report to Congress on Federal Government Energy Management and Conservation Programs Fiscal Year 2007. In the last decade, Congress has appropriated $443 million in DoD energy conservation projects, and the value of contracts to install energy savings improvements has exceeded $2.8 billion. While the Defense Department has reduced its energy consumption, its energy spending continues to rise due to aging facilities. Now, in the face of a shrinking defense budget (due to economic hardships and the demobilization of troops in the Middle East), the DoD has had to look at new ways to rein in energy consumption and spending.
The DoD operates more than 300 domestic bases; many of these facilities neighbor rural electric cooperatives. The 900 rural cooperatives serve more than 42 million customers in 47 states, accounting for 12 percent of all U.S. electricity sales. Because of their market share and core mission to provide affordable, "at-cost" electricity for their members, co-ops represent vast opportunities to the DoD to share technological expertise and experience.
Two solar projects currently under construction leverage rural coop resources to help DoD facilities meet stringent energy efficiency guidelines. In Kentucky, a multi-million dollar project will install the largest solar array in the state that in its first phase will provide approximately 1.9 megawatts of energy capable of "plugging in" directly into the Fort Campbell power grid. A $3.1 million grant awarded by the State of Kentucky to Fort Campbell and the Pennyrile Rural Electric Cooperative Corporation in December 2012 pushed the project forward. Fort Campbell applied for the grant after establishing a 10-year Utility Energy Services Contract with PRECC, which allows the electric cooperative to use the grant to pay for the solar array's Interconnection infrastructure. Phase Two of the project will be funded by an additional $800,000 grant through the Department of Energy's Federal Emergency Management Program, tied to a 27-year Power Purchase Agreement.
The growing DoD interest in coop partnerships has inspired outreach to the investor-owned utilities (IOU). In April, Georgia Power and Fort Benning broke ground on a $75 million solar panel farm, one of the largest renewable solar power projects in the state. Georgia Power will cover the cost to install the panels and for maintenance and equipment to connect to the electric grid. In exchange for the power, Ft. Benning has agreed to provide the location for the array, with a 35-year easement from Georgia Power so that the base will have a long-term access to the panel farm. The solar project at Fort Benning and two other installations in the state will provide a 30-megawatt, alternating current, solar photovoltaic array on each post. Similar projects are planned at Fort Gordon in Augusta and Fort Stewart near Savannah.
According to a study by the Pew Project on National Security, Energy and Climate, third-party, private sector financing is increasingly being used by the U.S. military as a means of achieving improvements in energy efficiency without having to pay high initial costs for energy efficiency upgrades. Energy savings performance contracts (ESPCs) and utility energy service contracts (UESCs) are forms of third-party financing that incentivize energy efficiency by allowing the military to use the savings produced by energy efficiency projects to pay for the project over time. North Carolina's Fort Bragg has used ESPCs and UESCs to finance over $100 million in improvements, saving the installation millions of dollars and putting it on track achieve net zero status. Projects have included installing better lighting and controls, embracing ground source heat pumps, as well as the modernization of an energy plant.
Since ESPCs and UESCs save money and increase energy productivity, they are becoming more common in military applications in a time of dwindling budgets and resources. President Obama has set a goal of committing $2 billion to third-party contracts related to energy efficiency and DOD will represent a significant portion of that total by investing $1.2 billion to these projects in 2015. The Army has been particularly active on this front and has committed $756.9 million towards alternative financing since 2011.
By leveraging private sector expertise and resources, the DoD continues to meet the federally-mandated energy efficiency guidelines, even in the face of an ever-shrinking defense budget. It's a win-win proposition for everyone involved. The military gets better energy infrastructure, taxpayer dollars are saved, and the clean energy industry is finding new market opportunities. The projects inspire innovation and spur economic growth, important benefits for both the military and private sectors.
References
Clean Energy Partnerships Grow between the U.S. Military and Rural Cooperatives (The Energy Collective, Thursday, 20 August 2015)
Construction begins on largest solar array in Ky. (Fort Campbell Courier, Thursday, 28 May 2015)
Fort Benning Holds Groundbreaking for $75 Million Solar Panel Farm (Columbus Ledger-Enquirer, 17 April 2015
Military Develops New Strategies For Energy Savings (ASE.org, Thursday, 29 January 2015)
The 2015 Budget: Science, Technology, and Innovation for Opportunity and Growth (White House Office of Science and Technology Policy, March 2014)
Ft. Bragg Relies on ESPCs, Other Initiatives to Reach Net Zero Goals (Defensecommunities.org, 5 February 2014)
Fort Bragg at the forefront of clean energy, report says (Fayetteville Observer, 3 February 2014)
Why Federal Renewable Mandates Challenge US Utilities (and What They Can Do) (Smart Grid News, 13 June 2013
U.S. Department of Energy Annual Report to Congress on Federal Government Energy Management and Conservation Programs Fiscal Year 2007 (U.S. Department of Energy, 27 January 2010)
Department of Defense Facilities Energy Conservation Policies and Spending (Department of Defense, February 2009)