In a very well-reasoned opinion, the Supreme Court of Georgia upheld the denial of a contractor's unwritten-contract claim against a county based on sovereign immunity.  Based on an alleged oral contract, Contractor built a sewer pumping station for the County in exchange for an interest in the station's pumping capacity.   When the County denied Contractor's demand for an interest, he filed suit. 
As noted in many prior posts, the Georgia constitution reaffirms sovereign immunity of the state – which the courts interpret to include counties.  One common exception in the public works area is the Constitution's "ex contractu clause," which waives sovereign immunity for claims based on written contracts.  Of course, a precondition to the waiver of sovereign immunity is the existence of a written contract – which Contractor did not have.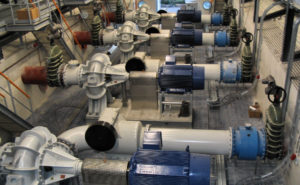 Applying these rules, the court affirmed the denial of Contractor's claims based on contract and quasi contract.  In the absence of a written contract, there can be no contractual claim against the County.  The same rule applies for quasi-contractual claims. 
As another exception to sovereign immunity, Contractor sought mandamus to compel the County and its officials to comply with the alleged agreement.  However, the court rejected this argument because mandamus cannot be used to enforce private rights under a contract, and there was not contract to enforce. 
Finally, Contractor sought recovery under the Georgia Constitution's Takings Clause, which is also not barred by sovereign immunity.  The Takings Clause applies, however, only when a governmental unit has deprived of a property interest.  Here, because there was no enforceable contract, Contractor had no property interest to be deprived.  Accordingly, the court ruled for the County. 
Compare the result in this case with the one we discussed in Hoschton v. Horizon Communities, which also involved a sewage pump station and mandamus relief.