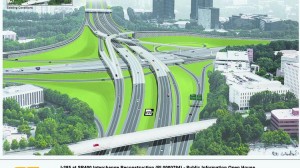 More than three years after Georgia Governor Nathan Deal made it his top transportation project, the planned redevelopment of the I-285/GA 400 interchange in Sandy Springs (DeKalb County) in metro Atlanta is closer to a start date. The Georgia State Transportation Board announced in early December that it has hired North Perimeter Contractors to design, build and partially finance the project, which is planned to begin construction in February 2017 with an expected completion date of June 2020. North Perimeter Contractors won the bid at $460 million, which brings the revised total for the project to $679 million – well below the state's initial cost estimate of $1.1 billion for the new interchange.
The redesign of the interchange, which on an average workday handles an estimated 416,000 vehicles, has three main goals: reduce vehicular weaving between Roswell Road and Ashford Dunwoody between I-285 and 400; improve ramp capacity at the interchanges by adding more traffic lanes; and improving existing configuration deficiencies in both highways. The project will include building a collector-distributor with separation barriers, new flyover bridges and widening and improving conditions of other existing bridges in the interchange area. Also included in this project is the addition of more lanes along 400 from Hammond to Spalding Drive.
The project will be funded through a combination of federal, state, Perimeter Community Improvement Districts and private sector funds provided by North Perimeter Contractors. The surrounding business community was a major backer of the project, with the Perimeter CIDs (which are self-taxing business districts) chipping in $10.5 million. A brief summary of the proposal available online indicated that its design proposal would reduce the need for steel spans (part of the flyover bridge structure) by half, saving construction time and maintenance costs.
The vote doesn't mean the project is a done deal – negotiations will proceed with North Perimeter Contractors and, if all goes as planned, a final contract will be inked in April.
The team is a partnership between contractor Ferrovial Agroman US Corp and engineering firms The Louis Berger Group and Neel-Schaffer.
Resources
Team selected to build GA. 400/I-285 interchange (Atlanta Journal-Constitution, Thursday, 10 December 2015)
Contractor selected to rebuild I-285/GA 400 interchange (Decaturish.com, Thursday, 10 December 2015)
Contractor chosen for major overhaul of I-285/Ga. 400 interchange (Atlanta Journal-Constitution, Thursday, 10 December 2015)
SRTA board signs off on I-285/400 project (GAReport.com, Wednesday, 24 June 2015)
I-285/GA 400 Interchange Advances, New Scenic Byway Approved at State Transportation Board Meeting (Georgia Department of Transportation, Thursday, 18 June 2015)
Four Finalists Shortlisted for I-285 & SR 400 Reconstruction Project (Georgia Department of Transportation, Friday, 13 February 2015)
GDOT: 285/400 interchange work to start in 2016 (DeKalb Neighbor, Friday, 6 February 2015)
AJC exclusive: rebuilding the Ga. 400/I-285 interchange (Atlanta Journal-Constitution, Friday, 13 June 2014)